Posted on October 23, 2013
This post will describe a recent project of mine; fetching bitcoin market data using Haskell. I will give a brief introduction to the problem being solved, the solution, and describe what benefits Haskell provides.
Introduction
Bitcoin markets typically offer some public API built around the JSON format. Through HTTP requests you can retrieve the current order book and complete trade history. An example of existing formats is a standardized version established by bitcoincharts. A simple fetching program could simply poll each market repeatedly and dump the results, maintaining some state related to the latest retrieved trade. There are a few issues with this simplistic approach, since it implicitly relies on requesting data from a single node and some database backend is probably needed as well. Another take on this is splitting up the fetching across several nodes and managing the role of each node. Such a distributed system allows lower dependence on single nodes and also makes scaling a lot easier. There is also the problem of having assurance in your implementation. Haskell is a big part of the solution, since all components of the program can be expressed on an abstract level, and the type system allows imposing restrictions on a subset of the program.
Distributed approach
Consider the following sketch of a system where the Cassandra database storage, a single backend node, a proxy layer, and third party markets are split up into layers.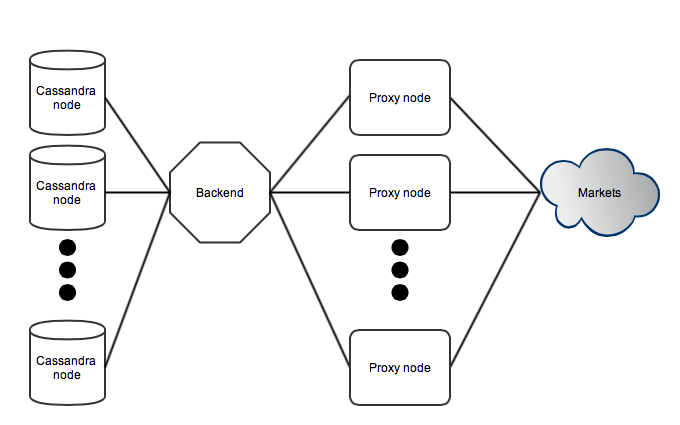 The backend is responsible of managing all active markets and basically parses a configuration file for each market. It maintains state related to when a given market should be polled next. Proxy nodes connect into the backend and are managed using separate threads, which then communicate with application logic using channels. Communication with the proxy layer is abstracted into a monad transformer which is used by a set of functions. This allows managing proxy nodes, market requests, and retransmissions by simply calling some high level function.
The proxy layer is basically a collection of simple nodes pooled together. The goal is to isolate public-facing communication into these proxy nodes and keep a clean interface towards the backend node. When the backend decides that some market state needs to be updated it transmits a request to some randomly chosen proxy node. The proxy nodes parses the included configuration and deals with HTTP specifics upon connecting to the given market. The response is then serialized into a binary blob and sent back to the backend. Upon receiving this response all processing related to order books and trades kick in, and results are pushed into a Cassandra cluster (which is a distributed database).
Layering all logic in this way allows easy abstraction of features and also handles assurance in implementations. For example all communication between the backend and proxy nodes is over a well-defined protocol and HTTP-related connections (with all the related complexity) are strictly isolated to proxy nodes. Hence unexpected crashes and broken web servers are problems isolated to proxy nodes, and the backend can trivially issue retransmissions and manage the active set of nodes in the background. There is also the benefit of requesting data from a larger set of IP addresses. If a node would ever by IP-blocked (for whatever reason) or have regional connectivity issues it will simply be replaced by the backend until the issues are resolved. In the end the market data will be available if it is available to any node on the internet, given a large enough pool. Another benefit is that scaling the pool is trivial - just launch a new proxy and it will integrate into the system. Updates of proxy software can be applied partially with zero downtime as well.
Update (2013-10-28): This design is not optimal for all use cases, since the backend node is a single point of failure and potential bottleneck. In this case the simple distributed alternative does offer some benefits while not dealing with problems such as distributed state.
Haskell libraries
An important part of this project is the wonderful ecosystem of Haskell; here are some highlights.
Pipes provides construction of pipelines from reusable components. This pattern is heavily utilized throughout this project since many things can be expressed as pipelines, i.e. read some thing, process it, and save the output. Since version 4.0 it is actually possible to comprehend mixing monads within the pipeline, since pipes just adds a monad transformer upon your existing stack. It is truly beautiful. Pipes by itself is good thing, but more importantly there is a separate ecosystem implementing much common functionality in terms of pipes. For example you can easily setup a pipeline fetching an action from a shared STM variable, generate a response object, serialize it, and transmit the result through a socket.
http-streams is an easy-to-use HTTP client which does what you want basically, and doesn't bother you with specifics. There are however some issues with the underlying SSL dependency which uses FFI, e.g. dependency on compilation flags and segfaulting upon certain errors. It is also important to take great care of all exceptions that might occur, the errors package helps out a great deal here (for example see the syncIO function).
Aeson and cassandra-cql are good examples of translating data through different representations and storing content. Typically a pattern emerges where you create a new type and then express serialization by composing existing instances. An example of this is working around limitations of storing pairs in Cassandra. The driver allows expressing custom serialization into a blob instance, working around existing limitations easily. It also has a great monadic interface when composing queries which are at some point executed on a pool of servers.
Snap and QuickCheck makes testing a breeze. Specifically Snap is used to easily fire up a HTTP server, where each route shares a global communication channel with the actual test case. Using this it becomes easy to simulate a market and for example verify the number of requests transmitted to a specific route (e.g. polling frequency of the order book).
Notes
The source code of the project is available here.